Futurist Lowell Catlett Says, 'Get Ready; It'll Blow Your Doors Off.'

Problems come and go, but the resilience of Americans will ensure successful adaptation to whatever comes, futurist predicts.
TAMPA, Fla. (Feb. 6, 2013) — Economist and futurist Lowell Catlett informed and entertained Cattlemen's College® attendees during his keynote address Wednesday morning, Feb. 6, in Tampa, Fla. Catlett, who is on the faculty at New Mexico State University, shared his thoughts on future technological possibilities, repeatedly saying, "Get ready; it'll blow your doors off."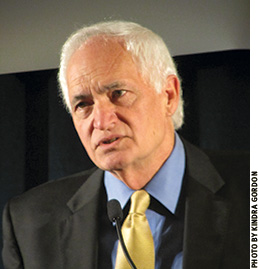 Problems come and go, but the resilience of Americans will ensure successful adaptation to whatever comes, futurist Lowell Catlett predicted.
Catlett's address marked the kickoff to the 20th anniversary of Cattlemen's College sessions hosted in conjunction with the annual Cattle Industry Convention.
Catlett began his remarks by reminding the audience of challenging times in history, such as the first energy crisis, when gas doubled in price from 32¢ per gallon to 64¢ per gallon, and the 80s, when most manufacturing moved to Japan.
He noted that when you read history you find that no matter what is thrown at the United States, Americans get up and work — and the rest of the world admires us for that.
"I'm not making light of problems; I'm just saying problems come and go," Catlett said. Today it's climate change and $8 corn, he noted. "In 20 years there will be different problems, but we get through them. Americans are resilient."
Catlett noted the coming population boom and economic growth in third-world countries. Of this — and the boost it can mean for agricultural products including beef — Catlett said, "This world is rising in its income and quality of life. It may not happen in my lifetime, but it will for our sons, daughters, nieces and nephews, and it's phenomenal."
Looking to the future, Catlett referenced the rise of the cell phone and technological products like the Kindle — and the fact that these products are "game changers" for the world. As examples, he shared stories of phones being equipped to determine if a skin blemish is benign or cancerous, to transmit your heart rate to your doctor, and to test your blood pressure.
"Oh, get ready folks," he said. "The manifestations of what we're going to do with this [science and technology] will blow your doors off — for human health, and it will change animal health, too."
Another trend noted by Catlett is the increasing role of women in the workforce, particularly in agriculture. He shared that 70% of graduates in agricultural degree areas are now women.
This, too, is a revolution from which the world will benefit, Catlett said. He shared research collected by the Bill and Melinda Gates Foundation that women in farmer roles are 30% more productive with the resources given to them.
This gives men more time to devote to "turn wrenches" Catlett said, explaining the the advent of 3-D printers and assembly. "We need people who know how to use their hands."
With the burgeoning population and many people in the world currently food-impoverished, Catlett said, "Let women be the agriculturists and men turn wrenches. Wouldn't you like to have 4 billion more people want more American beef?"
"I don't know what's coming, but I read history and I know this: This old country and this old world is doing this," he concluded, holding up his phone and Kindle to emphasize technology. "The demand for what you do is going to be different."
Now in its 20th year, Cattlemen's College has established a reputation as one of the most thorough cattle producer education programs in the nation. Coordinated by the National Cattlemen's Beef Association (NCBA), the program is sponsored by Zoetis Animal Health (formerly Pfizer Animal Health) .
--------------------
Editor's Note: The above article was written under contract or by staff of the Angus Journal. It may not be reprinted without express permission of the Angus Journal. To request reprint permission, contact the editor at 816-383-5200.
www.4cattlemen.com is an event coverage site provided by the editorial team at Angus Productions Inc. (API), publisher of the Angus Journal, the Angus Beef Bulletin, the Angus Beef Bulletin EXTRA and the Angus e-List. For questions about this site, to submit an article for our consideration, or to report a broken link, contact the editor at 816-383-5200; 3201 Frederick Ave., Saint Joseph, MO 64506.
API claims copyright to this website as presented. We welcome educational venues and cattlemen to link to this site as a service to their audience.