Schering-Plough Animal Health Launches CooperMEC(TM)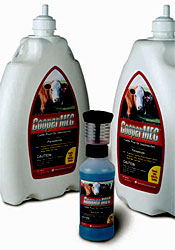 Schering-Plough Animal Health Corporation announced the introduction of CooperMEC™ Pour-on for Cattle, an ivermectin pour-on equivalent to Ivomec®. CooperMEC offers the industry a cost-effective ivermectin with the customer and technical support of a major animal health manufacturer.

"CooperMEC brings the ivermectin track record of efficacy and safety together with the Schering-Plough Animal Health service and support that customers have known for years," says Steve Brecher, Senior Product Manager. "We're also launching the product with an attractive Product Satisfaction Guarantee.

"Schering-Plough Animal Health will honor this guarantee of lice coverage for six months following treatment with CooperMEC against the lice species indicated on the product labeling, provided the product is used in accordance with label directions and certain procedures are followed."

CooperMEC is available as a pour-on formulation in 250-mL, 2.5-L and 5.0-L presentations. The product effectively controls a wide range of parasites, including roundworms, lungworms, grubs, mites, lice, and flies. The addition of CooperMEC to the company's ectoparasiticides product line gives Schering-Plough Animal Health one of the broadest, most complete parasiticide lines in the cattle industry, including Saber™, Ultra Boss®, and Boss®.

Schering-Plough Animal Health is a leading manufacturer and marketer of biologicals, pharmaceuticals, and specialty products for food and companion animals. It is the worldwide animal health business of Schering-Plough Corporation, a research-based company engaged in the discovery, development, manufacturing, and marketing of pharmaceutical products worldwide. For more information on Schering-Plough Animal Health, visit http://usa.spah.com.

For more information about CooperMEC, call your local Schering-Plough Animal Health representative or contact the company at P.O. Box 3182, Union, N.J. 07083. Phone: 888-262-7075. Fax: 908-629-3485. Email steven.brecher@spcorp.com.