For Immediate Release CONTACT:
Reid Hamre
Communications Manager
770-813-6067
reid.hamre@agcocorp.com


New 900 Series Hesston Round Balers Raise Bar on Service and Reliability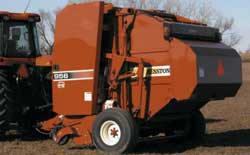 The model 956 round baler is one of seven all new round balers from Hesston. The 956 and 956 Auto Cycle™ make 5' X 6' bales. Other models provide 4' X 5', 4' X 6' and 5' X 5' bales.
ATLANTA –January 2003 — Improved serviceability, increased reliability and enhanced hay handling all add up to "operator friendly" with the new 900 Series Round Balers from Hesston. The new designs include the 945 and 945 Silage Special (4' x 5' bale); 955 (5' x 5' bale); 946 Auto Cycle™ and 946 Auto Cycle™ Silage Special (4' x 6' bale); and the 956 and 956 Auto Cycle™ (5' x 6' bale).
"Hesston has built its reputation around crop friendly handling equipment," says Steve Reiling, Hesston product manager, AGCO Corporation. "With the 900 Series, we have made improvements that not only enhance productivity, but also make the operator's job easier. Servicing is simpler with the new one-piece side door design. Other changes that increase reliability and improve crop handling mean more time in the cab, less on the ground and more bales per hour."
Servicing the 900 Series is a breeze, even in a breeze, thanks to the angled hinges that use the side doors' own weight to help keep them open. Should the breeze pick up, a handy lock rod keeps the door from blowing shut during servicing. Belts are now easier to service as well, thanks to the new alligator rivet style lacing which allows repairs to be made in the field.
Other new features, such as the windguard and pickup flares, are designed to reduce the wind's affect on operation and improve material feed into the baler. The rear pivoting windguard can be easily adjusted up or down according to crop height. Windguard tines move the crop smoothly up and into the baler, controlling it up to the time it is rolled onto the bale.
"We also added side panels and pickup flares to the 900 Series pickup," says Jeff Noll, Hesston sales engineer. "They reduce the effect of cross winds and help the windrow feed evenly across the pickup and not bunch in the center."
Pickup augers and stuffer fingers have also been redesigned to further enhance productivity. The augers now turn up, picking the crop up from the pickup teeth and directing it into the stuffer fingers rather than turning down into the windrow, which can increase the potential for plugs. Stuffer finger shape also has been modified and stuffer speed increased 75%, resulting in greater capacity and reducing the need to slow ground speed under heavy crop conditions.
Maintenance needs also have been reduced with the addition of an overrunning clutch and chain drive simplifications designed to extend chain life. Other maintenance reduction designs include: automatic and nonautomatic balers that now share a common enclosed clutch design; an enclosed cylinder piston, redesigned with less linkage and fewer mechanisms; and repositioned, semi-pneumatic gauge wheels that are less likely to be run off the rim during row-end turns.
"Many of the changes we made are only fine tuning already superior baler designs," says Reiling. "We are still the only major manufacturer to offer a fully automatic baler with automatic twine or mesh wrap and eject at the push of a button. Our balers are also the only ones with operator-controlled hydraulic bale ejectors for gentler bale ejection than is possible with spring loaded designs. And our bale shaper senses bale surface shape, rather than sensing density at the sides or slack in belts as competing models do. Our balers are simply designed to produce more and better bales with less time in the field or in the shop, regardless of what crop is being harvested."
For more information on Hesston 900 Series balers, please visit our website at www.hesston.agcocorp.com.
AGCO Corporation, headquartered in Duluth, Georgia, is a global designer, manufacturer and distributor of agricultural equipment and related replacement parts. AGCO products are distributed in 140 countries. AGCO offers a full product line including tractors, combines, hay tools, sprayers, forage equipment and implements through more than 7,350 independent dealers and distributors around the world. AGCO products are distributed under the brand names AGCO, Ag-Chem, Challenger, Farmhand, FENDT, Fieldstar, GLEANER, Glencoe, Hesston, LOR*AL, Massey Ferguson, New Idea, SOILTEQ, Spra-Coupe, Sunflower, Tye, White Planters and Willmar. AGCO provides retail financing through AGCO Finance in North America and through Agricredit in the United Kingdom, France, Germany, Ireland, Spain and Brazil. In 2001, AGCO had sales of $2.5 billion.