Potential for Prosperity, Peril

USMEF Past Chairman Dan Halstrom offered exporter perspective at Cattle Industry Convention.


While U.S. beef exports in 2008 exceeded the expectations of many, 2009 could provide even more drama, with the potential for significant improvements as well as the risk of major setbacks, according to one industry leader.
U.S. Meat Export Federation (USMEF) past chairman Dan Halstrom offered his assessment of the global business climate to cattle producers attending the 2009 Cattle Industry Convention and Trade Show in Phoenix. Halstrom, the senior vice president for international sales at JBS, told members of the Joint International Markets Committee that 2008 was a strong year for U.S. beef exports, even though global economic volatility made the final months of the year very challenging.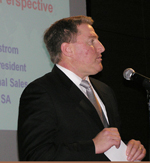 USMEF past chairman Dan Halstrom addresses the Joint International Markets Committeein Phoenix.

"The first eight months of 2008 were like a dream, where all the stars were aligned for success," he said. "But during the last four months of the year, I was more of a credit manager than a sales manager."
Looking ahead, Halstrom identified South Korea, Japan, Canada and Mexico as the foreign markets holding the highest priority for JBS, primarily because the stability and reliability these markets offer during times of very tight credit. He specifically singled out Japan as having the largest potential for growth if the pool of cattle eligible for export to that nation could be expanded from 20 months of age to 30 months.
"People are estimating that a 30-month age limit in Japan could be worth $80 to $90 per head in incremental value for cattle producers," Halstrom said. "But I think it could even exceed $100 if we can get variety meats included. Japan really wants U.S. beef, but we don't have enough cattle that qualify. It's a situation that Australia has really been taking advantage of."
While the U.S. government has been seeking approval for beef from cattle of all ages, industry experts believe that expanding the age limit to 30 months could restore as much as 95% of the U.S. export business.
Halstrom cautioned cattlemen not to assume that a 30-month age limit would eliminate the need for age verification. He said retailers in Japan are likely to continue to require age verification, even if the age limit is expanded to include the majority of fed cattle.
On the risk side of the spectrum for 2009, Halstrom expressed great concern over potential interruptions in trade with Canada and Mexico because of their importance to U.S. exporters. Both Canada and Mexico have raised issues regarding the United States' implementation of country-of-origin labeling (COOL).
"It is estimated that the loss of the NAFTA markets would cost cattle producers $50 to $60 per head," Halstrom said, "but I think it would be quite a bit more than that because of all the end cuts and variety meats we would have to absorb into the domestic market."
Halstrom noted that despite the severe economic downturn, U.S. beef exports through the first 11 months of 2008 increased 29% in volume and 40% in value over the same period in 2007. When all 2008 results are final, beef exports will total well over 2 billion pounds and more than $3.5 billion in value. Both the per-head export premium for cattle and the percent of total U.S. beef production exported are approaching the pre-BSE peaks achieved in 2003.
He cited four major challenges the beef industry must overcome in order to maximize export growth in 2009: global liquidity; risk related to specific markets; a strong U.S. dollar; and shifts in demand toward lower-cost cuts and proteins.
"At JBS, we expect to grow our U.S. beef exports in excess of the industry forecast of 6%, but this will require a change in the way we do business," Halstrom said. "We need to manage our risk carefully, and focus on stable markets and affordable cuts. Opportunities are there, but if we don't take advantage of them, other countries and other proteins will."
Later in the Joint International Markets Committee meeting, the committee formally addressed the age limit on beef exports to Japan by unanimously passing a resolution brought forward by representatives of the Nebraska Cattlemen. The resolution urged U.S. negotiators to pursue Japan's approval of a 30-month age limit as an incremental step toward restoring full access to the market. The following day, the resolution was approved by members of the National Cattlemen's Beef Association (NCBA) at its annual meeting. The directive will become official association policy if it is approved by a majority of NCBA members though a mail-in ballot process that concludes in mid-March.
 
Editor's Note: This article was provided as a news release by the U.S. Meat Export Federation. For more information, contact Jim Herlihy, vice president of information services, at 303-623-6328. The USMEF is the trade association responsible for developing international markets for the U.S. red meat industry and is funded by USDA, exporting companies, and the beef, pork, corn and soybean checkoff programs. Click here to read other USMEF news releases.