South Carolina Angus Breeder Wins Environmental Stewardship Title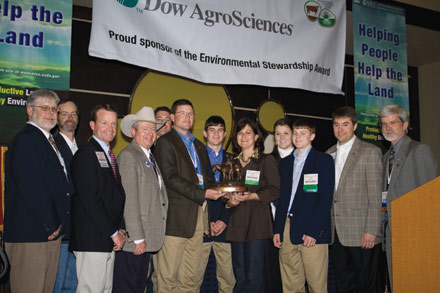 Yon Family Farms of Ridge Spring, S.C., was named the national
Environmental Stewardship Award Program (ESAP) winner.
PHOENIX, Ariz. (Jan. 29, 2009) — Yon Family Farms of Ridge Spring, S.C., was named the national Environmental Stewardship Award Program (ESAP) winner during an award ceremony Thursday, Jan. 29, at the 2009 Cattle Industry Convention in Phoenix, Ariz. Seven regional winners were finalists for the prestigious award, which honors cattle producers for their commitment to conservation and stewardship on the land.

The award program is administered by the National Cattlemen's Foundation and sponsored by Dow AgroSciences LLC, USDA's Natural Resources Conservation Service (NRCS) and the U.S. Fish & Wildlife Service.

Established in 1996, the Yon operation is family-owned and operated by Kevin and Lydia Yon and their three children. The farm includes 1,500 acres of cropland, hay and pastureland for the family's diversified Angus seedstock operation. The farm also earns income from the sale of seed and feed for livestock, freezer beef and sweet corn sales.

Partnering with USDA-NRCS and the Saluda Soil and Water Conservation District, the Yon's have utilized technical and financial assistance to install practices and easement through the Environmental Quality Incentives Program (EQIP), Forestry Incentives Program (FIP), Conservation Security Program (CSP), and Grassland Reserve Program (GRP).

Through these programs the Yons have implemented no-till practices, rotational crop planting sequences, nutrient and pest management, and forage and soil sampling. Over the years, they have installed 28 water troughs, 55,352 feet of cross-fencing, and 34,616 square feet of heavy materials to protect from erosion. These efforts have allowed the operation to become economically sustainable and environmentally friendly.

Lydia Yon stated that they recognize the need to take care of the soil in order to produce quality grass — and ultimately quality beef.

Yon Family Farms is also passionate about informing and educating others about conservation and the beef industry. They regularly host producer tours, educational studies, conservation programs and internship programs.

The other regional award winners recognized for their commitment to conservation included:
The 19th Annual Environmental Stewardship Award officially has opened its nomination season for 2009, with an entry deadline of February 25, 2009. Nominations can be submitted by any organization, group, or individual on behalf of a U.S. cattle producer. Go online to download a nomination packet or contact the National Cattlemen's Foundation to request a copy of the application at 303-694-0305.
— by Kindra Gordon
 
Editor's Note: This article was written under contract or by staff of Angus Productions Inc. (API), which claims copyright to this article. It may not be published or distributed without the express permission of Angus Productions Inc. To request reprint permission and guidelines, contact Shauna Rose Hermel, editor, at (816) 383-5270.