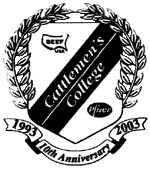 WEDNESDAY, JANUARY 29

Click on the college class number for highlights of the session.
MARKETING TRACK
7:30 a.m. - 9:15 a.m.
MA 101 - Developing a Profitable Marketing Plan in Today's Marketplace
Cattle-Fax will provide ideas for positioning your operation to enhance profitability. Evaluate your business and strategies in response to developing structural changes in the entire marketing chain.

9:30 a.m. - 11:15 a.m.
MA 102 - Alliances: Real Life Experiences
Attend this lively question-answer session on alliances and how beef producers use them to market cattle.

9:30 a.m. - 3 p.m.
MA 103 - Futures and Options 101 (Beginning Level)
How can you use options or hedging to help protect your investment in the cattle industry? Learn the basics from the CME.

1:15 p.m. - 3 p.m.
MA 201 - New Products
New beef products are being developed continuously to provide more consumer choices in the meat case. Hear the latest research in this exciting area.

1:15 p.m. - 3 p.m.
MA 202 - Packer-Feeder Game
Make marketing fun - this popular session is back! It's the classic battle of feeder vs. packers, with new features like grid pricing to reflect today's marketplace.

PRODUCTION TRACK
7:30 a.m. - 9:15 a.m.
PR 101 - Genetics for Cowboys
How do you select the right bull for your cowherd? Does that sire meet your genetics goals? Find out how leading cattlemen have put EPDs, carcass data and genetic information to work.

9:30 a.m. - 11:15 a.m.
PR 102 - Emergency Response Systems for Livestock Operations
What would you do with your cattle if an emergency occurred in your area? State Veterinarians from around the country provide plans to save your herd.

9:30 a.m. - 11:15 a.m.
PR 103 - Management Programs to Optimize Reproduction
Learn factors to enhance your herd's reproductive performance from experts in cattle health and nutrition.

1:15 p.m. - 3 p.m.
PR 201 - Facilities for Low Stress Handling
Design your own handling facilities in this hands-on training session through a corral design Quality Assurance Pilot Project.

1:15 p.m. - 3 p.m.
PR 202 - Capturing the Value of Preconditioned Calves
Both stocker and cow-calf producers can benefit from preconditioning, but how do you realize the value associated with these programs? Learn what works and how to reap the rewards.

RESOURCE MANAGEMENT TRACK
7:30 a.m. - 9:15 a.m.
RM 101 - Fence Posts Talking to Each Other
Ever feel like everyone is talking to each other, but no one is really listening? Dr. Ron Hanson makes an entertaining presentation that will help you open up communications throughout your operation.

7:30 a.m. - 3 p.m.
RM 102 - The Farm Bill: What it means to YOU
After discussing the Farm Bill and programs for cattle producers, you'll develop a skeleton document for your operation to take home and use with your NRCS agent.

7:30 a.m. - 3 p.m.
RM 103 - Wildlife and Cattle Management Issues
Wildlife provides viable alternative revenue for many cattlemen. Monitoring and managing wildlife is important to preserve the habitat and to protect the health of your cowherd and wildlife.

9:30 a.m. - 11:15 a.m.
RM 104 - IRM: Putting the System to Work
Hear from producers and beef specialists about tools and management skills that can affect your cow-calf operation's bottom line.

1:15 p.m. - 3 p.m.
RM 201 - NCBA Spokesperson Training
Ever wonder how to respond to the media about the beef industry? Learn tips and techniques to make you a better spokesperson.

CATTLEMEN'S COLLEGE LUNCHEON
11:30 a.m. - 1 p.m.
Gene Stallings was a successful football coach at Texas A&M, the University of Alabama and in the NFL. Stallings is also a full-time rancher in Paris, Texas. He will share his family' story of commitment to their son, who was born with Down's syndrome. You'll enjoy this inspirational story from a truly remarkable man.