Boehringer Ingelheim Vetmedica, Inc. introduces BVD control from Pature to Pen
Boehringer Ingelheim Vetmedica, Inc. ALPHA-7/MB-1 the new one-dose vaccine that protects against Moraxella bovis (Pinkeye) and 7 major Clostridial diseases.

Introducing new John Deere Utility ATVs
Whatman demonstrated its patented FTA® Cards for collecting, purifying and storing cattle DNA
New SRP® Technology from AgriLabs – A Better Way to Make Vaccines
Positive Feed, Ltd. Makers of Livestock Molasses Products
Pulse 250-Needle Free Variable Dose Needle-Free Injection System for Cattle
BallistiVac®IBR Infectious Bovine Rhinotracheitis Vaccine MLV
Estrus Alert® The Revolutionary Heat Detection System
No...Bird Left Behind? PlainJan's launches Aerosol Bird Aversion Program at 2 National Shows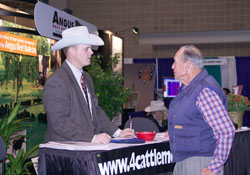 Regional Manager, Matt Caldwell, talks to a tradeshow participant.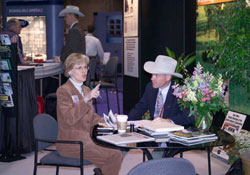 Cheryl Oxley, Production Manager of Angus Productions Inc., and Jerry Cassady, Regional Manager discuss upcoming Angus events.
American Angus Association and Certified Angus Beef® Booth at the trade show.

Tanya Peebles and Annie Jensen pictured with Mike Johanns, Secretary of Agriculture, visting the 2005 trade show.